Klimakiller militär

Transparenz TV d. 4/3 - 2020
Studio am Brandenburger Tor

se video

What is the relationship between the military and the environment?


EarthBeat d. 13/2 - 2020

...How has the military actually impacted the environment though?

Let's be clear here. The military has an extensive history of damaging the environment, both at home and abroad. For our purposes, let's separate the impacts into three general categories: greenhouse gas emissions, toxic pollutants and war-related impacts.

Emissions?

In 2017 alone, the U.S. military released roughly 59 million metric tons of carbon dioxide and other greenhouse gases into the atmosphere, according to a study by Brown University. If it were a country, this would rank the Pentagon as the 55th largest contributor of greenhouse gas emissions in the world, putting it ahead of industrialized countries like Sweden and Portugal...

Toxic Pollutants?

This is a big one.

A 2002 study by the National Cancer Institute and the Center for Disease Control found that any person who has lived in the United States since 1951 has been exposed to radioactive fallout from the more than 500 nuclear weapons tests performed worldwide prior to the 1970s.

...And in the Marshall Islands, an 18-inch concrete cap covering 111,000 cubic yards of radioactive debris from U.S. nuclear testing is in danger of leaking into the ocean because of rising sea levels...

War?

Looking just at the recent wars in Iraq, Afghanistan and Pakistan alone, Brown University's Costs of War project found degradation of multiple natural resources. This includes contaminated water in war zones by oil from military vehicles and deforestation in Afghanistan as a result of illegal logging by warlords.

Military activity has also contributed to extreme desertification in Iraq, according to the United Nations...

Link

Sidens top



Don't Mention the US Military Carbon Footprint!

By Caroline Davies, February 4, 2020

Extinction Rebellion (XR) US has four Demands for our governments, local and national, the first of which is "Tell the Truth". One truth that is not being told or spoken about openly, is the carbon footprint and other sustainability impacts of the US Military.

..."In short, the Army is an environmental disaster"

If the US Army can say this in their own report, then why aren't we talking about it? In 2017 "the Air Force purchased $4.9 billion worth of fuel and the Navy $2.8 billion, followed by the Army at $947 million and Marines at $36 million". The US Airforce uses five times more fossil fuel than the US Army, so what does that make it? An environmental disaster x 5?

After reading the US Army War College Report, I was ready to "confront a general". It turned out that a retired Air Force Lt. General was speaking at an upcoming Sustainability Event, co-sponsored by the Julie Anne Wrigley Global Institute of Sustainability and the American Security Project on "Salute to Service: Climate Change and National Security". Perfect! I have noticed that there are several talks a year at Arizona State University (ASU) by members of the armed services presenting their latest and greatest sustainability solutions, yet the elephant in the room is never mentioned. I wasn't the only XR member who wanted to speak up at this event. Between us, we were able to raise many, if not all, of the following issues:

The US military carbon footprint is larger than any other single organization in the world, and based on its fuel usage alone, it is the 47th largest emitter of greenhouse gases in the world.
- Our 2018 military budget was equivalent to the next 7 countries combined.
- 11% of the military budget could fund renewable energy for every home in the US.
- The interest on National Debt for 2020 is $479 billion. Although we spent massively on the Iraq and Afghanistan Wars, we used debt to fund them and meanwhile lowered our taxes...

Læs hele artiklen




Klimakrisen kan ikke løses uden nedrustning
Militærets enorme CO2-udledning skal nedbringes kraftigt og medregnes i klimaaftalerne i alle lande,

Arbejderen d. 22/1 - 2020

skriver Poul Eck Sørensen fra Esbjerg Fredsbevægelse.

Er du klar over, at USA's militær har et olieforbrug, der er mere end dobbelt så stort som de cirka 257 millioner biler, der kører i USA? (kilde: Brown University, Watson Institute (Costs of War Project).

Hvis klimakrisen skal løses, skal militæret i den grad også reducere sit CO2-udslip.

USA's magt er afhængig af adgangen til enorme olieressourcer. Derfor har USA på en løgn angrebet Irak og overtaget olieproduktionen. Af hensyn til beskyttelse fra USA støtter vi blindt USA og har dermed bidraget til USA's overtagelse af olieproduktionen i Irak. Dette har gjort irakerne fattigere og skabt et sønderbombet land med radioaktive områder.

I Venezuela ønsker USA at indsætte en præsident, der er uddannet i USA, og som gerne vil lade olieproduktionen overgå til amerikanske firmaer. Vi støtter også denne præsident, selv om han ikke er valgt, men vi støtter jo USA af hensyn til os selv. Dette vil betyde, at de fattige i Venezuela vil få det hårdt, men det bekymrer os ikke. Sanktionerne fra august 2017 til august 2018 kostede Venezuela 8,4 milliarder dollars og var direkte medvirkende til, at 40.000 mennesker mistede livet, blandt andet på grund af mangel på medicin. USA "indefryser"/stjæler venezuelanske værdier for 7 milliarder dollars.

Det er også derfor, USA ønsker et systemskifte i Iran. Det er ikke af hensyn til demokratiet i Iran. Hvis USA udformede udenrigspolitikken efter moralske værdier, havde USA ikke Saudi-Arabien som meget nær allieret. USA truer virksomheder, der vil have økonomisk samkvem med Iran, med ikke at kunne komme ind på det amerikanske marked, og vi gør ikke noget.

NATO taler om, at Rusland er farlig, for at skabe grundlag for en øget oprustning og styrke USA's vej til total dominans – et ønske, der tydeligt kommer til udtryk i USA's genoptagelse af tanker om krig i rummet, trods aftaler for rummet som et fredens område uden våben underskrevet af mange lande i verden, blandt andre Rusland og Kina (PAROS).

NATO taler om, at Rusland er farlig grundet annekteringen af Krim – et område, som blev givet til Ukraine mod befolkningens ønsker, og som nu tydeligt har stemt for at være en del af Rusland. Hvis denne handling er udtryk for, at Rusland er farlig, hvad er Irak-krigen så udtryk for? NATO har et militærbudget, der er cirka 14 gange større end Ruslands, så russiske ledere ville være idioter, hvis de angreb NATO, men NATO har brug for fjendebilleder for at få flere penge til militæret.

Dette enorme militære forbrug tager ressourcerne fra vedvarende energi, social udvikling med mere og bringer os let i økonomisk krise. Irakkrigen 2003 til 2007 kostede et astronomisk beløb og blev gennemført for lånte penge. Finansverdenen lånte gerne Pentagon pengene – penge, som den ikke havde. I 2007 fik vi så finanskrisen!

Et vigtigt land som USA medregner ikke militærets CO2-udledning.

Hvis vi vil have velfærd og en bæredygtig udvikling, skal vi have nedrustning, konfliktløsning, og militærets enorme CO2-udledning skal nedbringes kraftigt og medregnes i klimaaftalerne i alle lande.

Link til læserbrev

Sidens top



Løbeseddel fra KVINDER I SORT

d. 6/9 - 2019



Krig er foragt for liv,
fred er at skabe
Nej til dansk krigsdeltagelse
Kvinder i Sort for et bedre klima


B-52 Stratocruiser, en tung type bombefly med lang rækkevidde, bruger ved normal flyvning 1.893 liter brændstof i minuttet. Til sammenligning bruger F-16 Fighting Falcon 6.359 liter i timen.

En tank af typen M-1 Abram bruger 954 liter i timen. Til orientering er en tankdivision på 348 tanks.

På årsniveau var de CO2-udledninger i Irak, som forårsagedes af krige, større end 139 landes udledning tilsammen. De enorme energi-mængder, som anvendes i våbenindustrien og i oprustningen, indgår ikke i denne vurdering.

Danmark har besluttet at købe 27 nye kampfly af typen F-35A til erstatning for militærets nuværende F-16 fly. Indkøbsprisen vil være o. 20 milliarder danske kroner, medens totaludgifterne i flyenes levetid beregnes til o. 56,4 milliarder – dette er Danmarkshistoriens største våbenkøb.

Hvor meget brændstof forventes disse nye fly at bruge? Hvilken militær klimaforurening kan vi så forvente?

Kvinder i Sort, København, 6. september 2019

Kilder: Heikki Tervahattus, University of Helsinki
og ing.dk om køb af kampfly



Is Climate the Worst Casualty of War?


Common Dreams d. 31/7 - 2018


The money misspent on the Iraq War—a war for oil, let's not forget— could have purchased the planetary conversion to renewable energy. Just sit with that a moment.
by Stacy Bannerman


...The Pentagon uses more petroleum per day than the aggregate consumption of 175 countries (out of 210 in the world), and generates more than 70 percent of this nation's total greenhouse gas emissions, based on rankings in the CIA World Factbook. "The U.S. Air Force burns through 2.4 billion gallons of jet fuel a year, all of it derived from oil," reported an article in the Scientific American. Since the start of the post-9/11 wars, U.S. military fuel consumption has averaged about 144 million barrels annually. That figure doesn't include fuel used by coalition forces, military contractors, or the massive amount of fossil fuels burned in weapons manufacturing...

...

We simply cannot continue the moral, spiritual, fiscal, or environmental policy of benign neglect that underwrites the decimation of land, air, and water around the world. That, my green friends, is the single most unsustainable policy on this nation's books.

I know a lot of folks have decided not to speak out about war in order to avoid being labeled a traitor, or accused of being anti-military. If we learn nothing else—and it seems we have not—from the Iraq War, we learn that silence is a luxury we cannot afford when lives are on the line. The hands of the Doomsday Clock are two minutes from midnight. Life itself is on the line. It is time to find your voice...

Læs hele artiklen

Sidens top



The Costs of War Project is a team of 50 scholars, legal experts, human rights practitioners, and physicians, which began its work in 2010. We use research and a public website to facilitate debate about the costs of the post-9/11 wars in Iraq and Afghanistan, and the related violence in Pakistan and Syria. There are many hidden or unacknowledged costs of the United States' decision to respond to the 9/11 attacks with military force. We aim to foster democratic discussion of these wars by providing the fullest possible account of their human, economic, and political costs, and to foster better informed public policies.
Project Goals:

To account for and illustrate the wars' costs in human lives among all categories of person affected by them, both in the US and in Iraq, Afghanistan, and Pakistan;

To tell as accessible as possible a story of the wars' costs in US federal and local dollars, including the long-term financial legacy of the wars in the US;

To assess the public health consequences of the wars, including for the countries of Iraq and Afghanistan and for US veterans living with war injuries and illnesses;

To describe how these wars have changed the political landscape of the US and the countries where the wars have been waged, including the status of women in the war zones, the degree to which Iraq and Afghanistan's fledgling democracies are inclusive and transparent, and the state of civil liberties and human rights in the US;

To identify less costly and more effective ways to prevent further terror attacks.
Watson Institute
International & Public Affairs
Brown University
Link
Link til: Costs of war projekt
The U.S. Military's Contribution to Climate Change
Pentagon Fuel Use, Climate Change, and the Costs of War

Scientists and security analysts have warned for more than a decade that global warming is a potential national security concern.

They project that the consequences of global warming – rising seas, powerful storms, famine and diminished access to fresh water – may make regions of the world politically unstable and prompt mass migration and refugee crises.

Some worry that wars may follow.

Yet with few exceptions, the U.S. military's significant contribution to climate change has received little attention. Although the Defense Department has significantly reduced its fossil fuel consumption since the early 2000s, it remains the world's single largest consumer of oil – and as a result, one of the world's top greenhouse gas emitters.

Link til websiden

Costs and Consequences of US Post-9/11 Wars:
Focus on Climate Change (64 min)

Video

Costs of War Project (6 min)

Video

Costs of War all papers

Link

Sidens top







Trygghet for hvem?

Om militære klimautslipp, krig som forretningsidé og veier til fred, av Åse Møller-Hansen.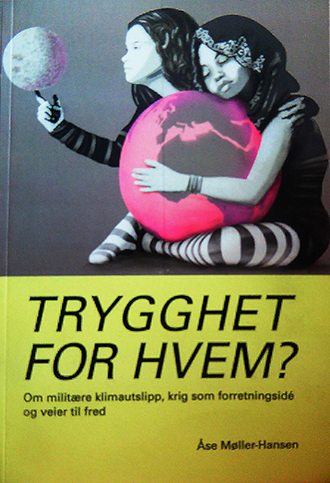 sidens top
Forsvarsministeriets miljø- og energistrategi

2016-2020

...Forsvarsministeriet præsenterer her en samlet strategi for indsatsen på klima-, energi-, natur- og miljøområdet i perioden 2016-2020. Med strategien viser vi, hvordan den grønne omstilling kan ske på en effektiv måde ved at lægge indsatsen, hvor det er mest relevant. Både når det kommer til økonomisk og miljømæssig bæredygtighed og på effekten i de opgaver, vi dagligt løser...

Forsvarsministeriets Klimaregnskab 2018
el - 23.000 t CO2
fly - 134.000 t CO2
tanks - 19.000 t CO2
Skibe - 92.000 t CO2
Bygninger- 53.000 t CO2
Tjenesterejser 11.500 t CO2
Køle- og slukningsmidler 9.000 t CO2

i alt 341.500 t CO2

Det danske militær har altså ca. 1/4 af det Københavnskommune med 623.404 indb. har af CO2


AUGUST 2019

KØBENHAVNS KOMMUNE
CO2-REGNSKAB FOR 2018

KORTLÆGNING FOR KOMMUNEN SOM SAMFUND

Den samlede CO2-emission fra Københavns Kommune er for 2018 opgjort til 1.548.011 tons og kan fordeles på sektorer, som vist i Figur 2-1 og Tabel 2-1. Den samlede emission fra Københavns Kommune som geografisk område udgør derved 2,5 tons pr. indbygger ved et indbyggertal på 623.404 pr. 1. januar 2019.
Når man yderligere foretager en korrektion for VE (vedvarende energi) (se afsnit 12), bliver den samlede CO2 emission fra Københavns Kommune 1.406.525 tons/år, svarende til en samlet udledning per borger i Kbh. på 2,3 tons.


Link


----------------------------------------------







Why the U.S. Military Is Losing Its Carbon-Emissions Exemption

The atlantic d. 15/12 - 2015

...The U.S. military and armed forces of countries around the world will no longer be automatically exempted from emissions-cutting obligations under the U.N. Paris climate deal.

Although the U.S. never ratified the Kyoto Protocol, it won an opt-out from having to fully report or act on its armed forces' greenhouse-gas emissions, which was then double-locked by a House national-defense authorization bill in 1999.

Under the Paris agreement, countries would not be obliged to cut their military emissions but, equally, there would be no automatic exemption for them either.

U.S. officials privately say that the deal adopted on Saturday has no provisions covering military compliance one way or another, leaving decisions up to nation states as to which national sectors should make emissions cuts before 2030...

...The Iraq war was responsible for 141 million metric tons of carbon releases in its first four years, according to an Oil Change International report. On an annual basis, this was more than the emissions from 139 countries in this period, or about the same as putting an extra 25 million cars onto U.S. roads for a year.

The paper found that projected U.S. spending on the Iraq war could cover all global investments in renewable energy needed to halt global-warming trends in the period to 2030...

læs hele artiklen




Global Warming and the Iraq War
Climate & Capitalism 19/3 2008


...Projected total US spending on the Iraq war could cover all of the global investments in renewable power generation that are needed between now and 2030 in order to halt current warming trends...

..In 2006. the US spent more on the war in Iraq than the whole world spent on investment in renewable energy...

...If the war were ranked as a country in terms of annual emissions, it would emit more CO2 each year than 139 of the world's nations do, more than 60% of all countries on the planet...