Traktat om Afkald paa krig.
Klip fra retsionfo:
...Bekendtgørelse angaaende den i Paris den 27. August 1928 mellem forskellige Stater afsluttede, almindelige Traktat om Afkald paa krig. (Kellog-pagten) (Briand-Kellogg-Treaty)...
...hvilke, efter at have meddelt hverandre deres Fuldmagter, der fandtes i god og behørig Form, er kommet overens om følgende Artikler:
Artikel I.
De Høje Kontraherende Parter erklærer højtideligt i deres respektive Folks Navn, at de fordømmer Tilflugt til Krig til Løsning af mellemfolkelige Uoverensstemmelser og giver i deres indbyrdes Forhold Afkald paa Krigen som et Redskab for national Politik.
Artikel II.
De Høje Kontraherende Parter er enige om, at Afgørelsen eller Løsningen af alle Uoverensstemmelser eller Stridigheder, som maatte opstaa dem imellem, af hvilken Art eller Oprindelse disse end maatte være, aldrig man søges ved andre end fredelige Midler.
Artikel III.
Nærværende Traktat skal ratificeres af de i Indledningen nævnte Høje Kontraherende Parter i Overensstemmelse med deres respektive forfatningsmæssige Forskrifter og skal træde i Kraft dem imellem, saasnart alle Ratifikationsinstrumenterne er blevet deponeret i Washington...
...Danmark Ratifikationsinstrument til foranstaaende Traktat deponeredes den 23. Marts 1929 i det amerikanske Udenrigsministerium i Washington.
Ifølge Meddelelse fra det amerikanske Udenrigsministerium traadte Traktaten i Kraft den 24. Juli 1929, efterat samtilige Signatarmagter havde deponeret deres Ratifikationsinstrumenter.
Inden Datoen for Traktatens Ikrafttrædelse har følgende Stater deponeret Tiltrædelsesakter til denne: Abyssinien, Afghanistan, Albanien, Bulgarien, Cuba, Danmark, den dominikanske Republik, Estland, Finland, Guatemala, Island, Kina, Letland, Liberia, Lithauen, Nederlandene, Nicaragua, Norge, Panama, Peru, Portugal, Rumænien, det serbisk-kroatisk-slovenske Kongerige, Siam, de socialistiske Sovjetrepublikkers Forbund, Spanien, Sverige, Tyrkiet, Ungarn, Ægypten og Østrig. - Persiens, Grækenlands, Honduras', Chiles, Luxemborgs og Fristaden Danzigs Tiltrædelsesakter deponeredes henholdsvis den 25. Juli, den 3. August, den 5. August, den 12. August, den 24. august og den 11. September 1929.
Hvilket herved bringes til offentlig Kundskab.
Udenrigsministeriet, den 5. Oktober 1929.
P. Munch.
Læs hele bekendtgørelsen på retsinfo

BKI nr 198 af 05/10/1929 Gældende
Offentliggørelsesdato: 09-10-1929
Udenrigsministeriet
Accession
L19290019864
Entydig dokumentidentifikation
CR029364
Dato for førstegangsindlæggelse
01-10-1997
Dato for indlæggelse
12-08-2004
Dokumenttype
BKI
Dokumentets rangering
L
Status (Gældende/Historisk)
Gældende
Forskriftens nummer
198
År for udstedelse
1929
Dato for underskrift
05-10-1929
Offentliggørelsesdato
09-10-1929
Offentliggjort i (publiceringsmedie)
Lovtidende A
Forskriftens titel
Bekendtgørelse angaaende den i Paris den 27. August 1928 mellem forskellige Stater afsluttede, almindelige Traktat om Afkald paa krig. (Kellog-pagten) (Briand-Kellogg-Treaty).
Ressortministerium
Udenrigsministeriet
Administrerende myndighed
Udenrigsministeriet
Ressortministeriets journalnummer
Udenrigsmin: j.nr. 5.B.28.a.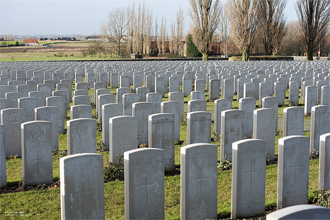 Foto: UK Ministry ofDefence.
War Graves at Tyne Cot Cemetary, Belgium. Thousands of graves of British and Commonwealth soldiers at the Tyne Cot cemetary in Belgium.
Link til billede - 1. Verdenskrig

Chicago's unknown hero of peace

By David Swanson, Guest columnist, The Daily Herald
In its 1929 Man of the Year article, Time magazine acknowledged that many readers would believe Secretary of State Frank Kellogg the right choice, as probably the top news story of 1928 had been the signing by 57 nations of the Kellogg-Briand Peace Pact in Paris, a treaty that made all war illegal, a treaty that remains on the books today.
But, noted Time, "analysts could show that Mr. Kellogg did not originate the outlawing-war idea; that a comparatively obscure lay figure named Salmon Oliver Levinson, Chicago lawyer," was the driving force behind it.
David Swanson
Indeed he was. S.O. Levinson was a lawyer who believed that courts handled interpersonal disputes better than dueling had done before it was banned. He wanted to outlaw war as a means of handling international disputes. Until 1928, launching a war had always been perfectly legal. Levinson wanted to outlaw all war. "Suppose," he wrote, "it had then been urged that only 'aggressive dueling' should be outlawed and that 'defensive dueling' be left intact."...
...None of this was without hypocrisy. U.S. troops were fighting in Nicaragua the whole time, and European nations signed on behalf of their colonies. Russia and China had to be talked out of going to war with each other just as President Coolidge was signing the treaty. But talked out of it they were. And the first major violation of the pact, World War II, was followed by the first ever (albeit one-sided) prosecutions for the crime of war — prosecutions that rested centrally on the pact. The wealthy nations have, for a number of possible reasons, not gone to war with each other since, waging war only in poor parts of the world.
The United Nations Charter, which followed without replacing the Kellogg-Briand Pact, seeks to legalize wars that are either defensive or U.N. authorized — loopholes more abused than used over the years. The lessons of the Outlawry movement may still have something to teach both the neocon war advocates and the "Responsibility to Protect" humanitarian warriors. It's a shame that their literature is largely forgotten.
In St. Paul, Minn., appreciation is reviving for local hero Frank Kellogg, who was indeed given the Nobel, is buried in National Cathedral, and for whom Kellogg Avenue is named.
But the man who led the movement that began to stigmatize war as evil and to make war understood as optional rather than inevitable was from Chicago, where no memorial stands and no memory exists.
Læs hele artiklen på WorldBeyondWar.org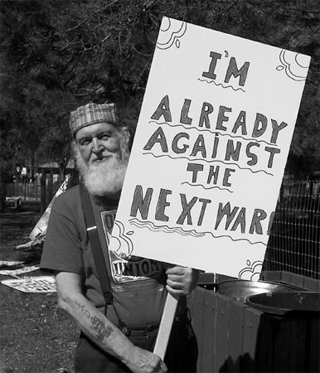 Fra Facebook The Other 98%